It was a calm summers day, a warm breeze flowed through the trees with a sweet smell of lavender. Vladimira woke in a grassy bank with daisies tickling the parts of her skin not covered in armor. As she looked up at the trees she slowly became aware of the fact she was no longer in the place she went to sleep. Vlad climbed to her feet, her body stiff as if she had been asleep for a long time. Then she ran, without warning, she kicked up her heels and ran, leaving the place she woke up behind.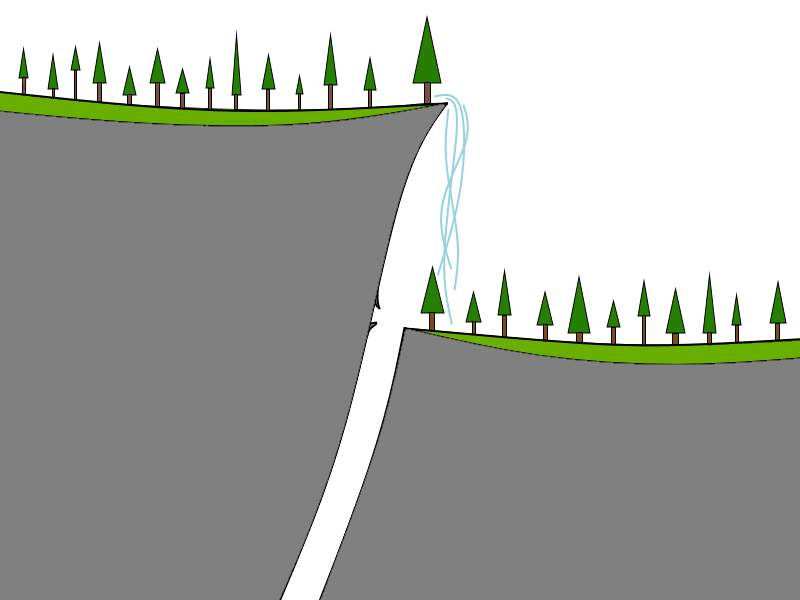 Kryal woke up outside, in a burst of motion, he sat up and started looking around utterly confused. Once he gathered his thoughts, he started scanning the environment: it was a lush, warm pine forest split in two by a massive ravine that caused the other side of the forest to lift incredibly high. Inside the raised cliff face lay a cave with an opening of 2.5 metres. "Perfect!" Kryal thought, he immediately started gathering supplies for a base camp on his side of the ravine..
Last edited by TheMuffinMan on Sat May 13, 2017 11:23 am; edited 8 times in total



Posts

: 4


Join date

: 2017-04-12


Age

: 17


Location

: Beachlands



Celosia's eyes fluttered open as the warm rays of sunlight beamed down on her pale skin. She jolted up with a start, taking in her surroundings. Clear blue skies stretched out for miles, warm green fields of vibrant grass covered the hills disappearing into the distance. Cel managed to get her shaky legs underneath her and ran to the top of the nearest hill, she put her hand over her eyes to shield them from the sun beating down on her. This is not where she went to sleep. Panic set in as she frantically whirled her head from left to right, not believing her eyes, this couldn't be right. Cel could hear her pulse quickening and becoming louder, it slowly drowned out the noise of chirping birds and running water, now the only sound she could hear echoing throughout her brain. She collapsed to her knees as her world fell apart... how did I get here?
All she could see was green rolling hills in front of her stretching out beyond the horizon. Looking behind her she could just see a ledge dropping off to form a sheer cliff too far for her too see what was below. Celosia took off in a sprint, making her way too the ledge. Her legs burned and her throat was dry and coarse as she dogged her heels into the soft grass, kicking up the earth beneath her. Finally approaching the edge she slowed to a stop and peered over the sheer drop to see... nothing. Nothing but mist, fog and clouds dotted the vast empty space. Cel stumbled back as the breath left her lungs as the shock stuck her and coursed throughout her veins, paralysing and stiffening her joints. She could hear her heart throbbing against her throat, threading to burst out of her chest. She couldn't believe her eyes... not only was she in some unfamiliar place... she was on a floating island.
Trustram woke with a feeling of dread, after all, waking in an unknown cavern does that to people. He could hear the splashes of water further down one end of the cave, "is that a waterfall?" he thought to himself, meanwhile the other end of the cave had noises he better not further investigate. He noticed two hammers on the left wall, they seemed to be glowing a faint and mystery red, he stood up and walked over to them, as he got closer he noticed voices start radiating off the hammers and got louder the closer he was, he couldn't distinguish what they were saying but he knew it was to him. *SPLASH* it came from the end with the waterfall, he picked up the hammers (which were surprisingly light and fit perfectly in his hands) and ran towards the water, as he got to the end of the cavern. As he stepped into the light and looked out through the rushing water he realised how high up he was, he could see the tops of the jungle trees below him, he was at least fifteen stories up, and even that's an understatement, above the trees you could see the sun setting low over the horizon, it seemed no matter how high up he was although there were still mountains higher than him off in the distance. Even though it was superbly beautiful he couldn't help but wonder where that splashing sound came from and even how to get down, not knowing what could be lurking out the dark, he crept cautiously back in where he came, hopefully figuring out a way to get out the following day.



Posts

: 81


Join date

: 2014-01-11


Age

: 16


Location

: New Zealand



Vlad ran, she ran as fast as her legs could possibly carry her through a meadow of tall grass and flowers.  She stumbled as she reached a gathering of tall trees, a forest, she paused for a moment and unclipped the black iron scythe from her back.  She turned the scythe over in her hands. It was a familiar sight, this scythe used to belong to her older brother Viktor he gave Vlad the scythe for her 14th birthday.  The blade of the scythe used to be razor sharp but after years of hard use it has become dull, as a result of this Vlad has had to use more muscle when decapitating someones head. Vlad tightened her grip on the Scythe and positioned it so the curve was facing forward. Then she sprinted toward a tall pine tree, leapt into the air, and swung her scythe. The scythe hooked around a large low branch and Vlad awkwardly swung herself over so she was straddling the branch then placing her scythe across her lap. Vlad then let out a sigh that was almost un human and slumped against the tree trunk. She had no idea where she was and the piercing headache she had was not making anything easier.
As Kryal scouted further from the base camp, he found a calossal waterfall cascading down the towering face of the 'Verschiebung'. The waterfall fell into a large pool which then slid down into a stream that could be used as a sorce of consumables. Once he had come back from his trek, he found a sturdy branch, cast Eisklinge upon it, and started to immediately chop down some trees to clear out a space for the base camp, to make the base camp, and ultimately to make a bridge to the cave..



Posts

: 4


Join date

: 2017-04-12


Age

: 17


Location

: Beachlands



Something was cold all around Tsukiko's body. She could tell what it was until she slowly opened to see that she was surrounded by dark, murky water. Looking straight ahead she sees a speck of light, tries to swim to it but something was keeping from swim and holding here to the bottom of the water. 'Damn', she thinks. Using her magic of controlling she makes a big bubble surrounding her to see what it was, it was kelp, grabbing one of the many knives that were on her thigh she cuts it off her and swims to the surface. Breaking the surface of the water she takes a big breath and looks around, she was in the middle of a lake. 'You gotta be kidding me' she thinks as she swims to the bank and gets out.



Posts

: 3


Join date

: 2017-04-17



As she looks around she sees that there are a lot of trees but nothing looks familiar at all not even the feel of the water felt familiar. It was all strange. 'Where the heck am I this isn't where i was yes... what is happening?' again thinking to herself. Tsukiko walks up to the closet tree to climb it and to get her bearings. But when she popped her head through the top of the canopy and looked again nothing except she saw a cliff which was a place to stir away from. She climbs down a little bit and stays on a branch to sleep for the night because it was starting to get dark. And it would be best to start with figuring out every thing the next day.



Posts

: 3


Join date

: 2017-04-17



Vlad stat in her tree questioning her next move. She could stay where she was for the night, though she wasn't a fan of heights she understood that the tree would be safer than the open ground. Or perhaps she could test her luck and travel overnight. Vlad looked up, the next pine branch loomed over her head "I'll climb to the top to get a better vantage point." Vladimira thought. She leaned forward and clipped her scythe to her back, after that she twisted her body around and pulled herself onto the next branch. Vlad climbed all the way to the top and looked out at her surroundings. In front of her there was a massive pine forest and at the edge of that appeared to be a mountain with a waterfall running down it. Behind her there was yet more pine forest. Vlat thought for a moment then she began climbing back down the pine tree. Once Vlad caught sight of the ground again she leapt for it.

After Vlads feet hit the ground she was off running again, crashing through the undergrowth of the forest. Her breath was periodic and her body moved at a steady pace, she gained speed slowly until she was running as fast as she possibly could. Vlad was on her way to the waterfall as she decided it was probably the best hope of survival. She could hear the sounds of running water to her right, a stream, she decided to change her path slightly so she could run parallel to the water.
Panic rose in her chest as her reality set in, chilling her to the bone. She stumbled back, trying to find her balance. Celosia fell to her knees as memories flooded her mind, pain and sorrow hitting her like sharp knives. Small and fast shaky breathe escaped her as her body became frozen and stiff as she saw the delicate face of her sister, the worried faces of her parents, pain rolled over her in waves. Grief, darkness, guilt and regret took over her mind. Slowly as the ice in her veins began to thaw and crack, she gathered her legs under her and pushed herself to her feet. A distressed scream left her lips involuntarily and she pushed all the pain and memories out with her croaky voice. Celosia forced herself to take deep breaths to calm herself down. Panicking will not get you out of this nightmare.
As adrenaline and survival skills kicked in she took off towards a small cluster of trees not 200 meters away. Scanning her surrounding her decided that was the best place to take shelter and make a camp at least for the night. The strong and power smell of pine needles hit her as she got closer, taking her back to the happy memories of the warm pinewood fire from her childhood. Powering through she made it to the patch of forest in no time, and broke through the walls of branches. Keeping up the pace she found a small clearing in the darkness that let in spots of sunlight through the leaves, like arrows of golden light piecing the sky. At the bottom of a tall pine she saw what looked like an old abandoned barrow once used by some sort of animal. Inspecting it she decided this would do. Cel collected clumps of moss and soft leaves to create a layer of bedding in the barrow. Light started to fade from the sky, replacing the warm sunlight with a cold darkness swallowing everything it passes over. Seeing this, she collected a pile of dry twigs and moss to create a pyramid shape. Slowly she placed her delicate pale hands over the structure as the familiar tingle trickled down her arm, filling her veins with light, as if her blood was pure gold flowing throughout her body. Celosia's hands warm up as small sparks fire from her finger tips, within seconds her hands are engulfed in fire flicking and flowing around her thin fingers. The pyramid burst into flames as it caught fire from her scorching hands. The light faded as she closed her hands, extinguishing the fire from her hands. Her now made campfire reflected in her mismatched eyes, the firelight dancing on both her green eye and her grey eye. The sound of unfamiliar insects chirped and sung, echoing through the strange swaying trees.

---
Permissions in this forum:
You
cannot
reply to topics in this forum